Analysis: Where was Frederick Ward born?
Copyright Carol Baxter, 2011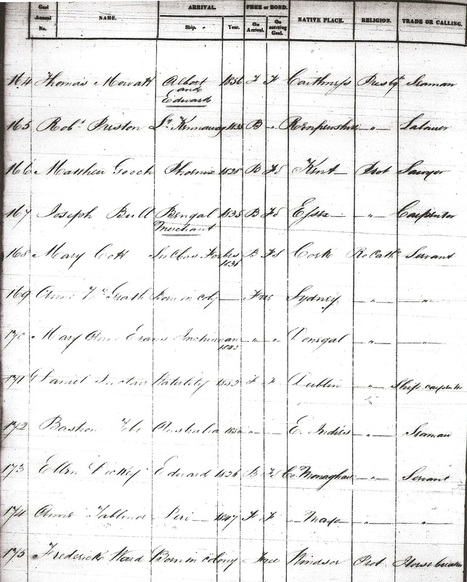 Maitland Gaol Entrance Book 1856
Most books, articles and websites state that bushranger Frederick Ward was born either in Wilberforce or Windsor. To determine the truth, we need to listen to Fred himself. A total of four surviving references list Fred's responses to questions about his birthplace or "native place" and in each instance he stated that he was born at Windsor. These references are as follows:

1. His admission to Maitland Gaol in May 1856 (see photocopy opposite: Entry No. 175 at bottom);[1]
2. His admission to Darlinghurst Gaol in August 1856 (see photo-copy below: Entry No.1772 - second last);[2]
3. His admission to Darlinghurst Gaol in November 1861;[3]
4. His admission to Cockatoo Island in November 1861.[4]*

Such remarkable consistency indicates that Fred was telling the truth – as he knew it. Fred by his own account was born at Windsor.

For further information, see When was Fred Ward born? and Who were Fred Ward's parents?
---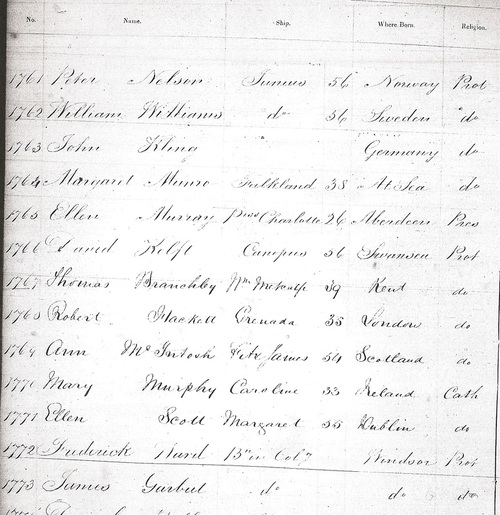 Darlinghurst Gaol Description Book 1856
______________
* NB. When Fred escaped from Cockatoo Island in September 1863, the Police Gazette reported that he was "a native of Windsor". This information was provided by the Cockatoo Island authorities, presumably extracted from the Cockatoo Island Transportation Register (Colonial), which was the equivalent of a gaol entrance register; it documented details of birth, physical description, etc., to assist in apprehending escaped prisoners. While the Transportation Register that covered the years of Fred's incarceration no longer survives, this Police Gazette notice serves, in this instance, as a contemporary copy of the information Fred provided at the time of his admission. However, the Police Gazette notice – from two years after his admission to Cockatoo Island – is useful only for unchangeable information, such as birth place and birth year, as well as date and place of trial. As the Police Gazette's reference to Fred's age involves a calculation, it does not serve as a contemporary copy of any statement Fred made regarding his own age.

---
Sources
[1] Maitland Gaol – Entrance Book: Frederick Ward, 1856 [SRNSW ref: 2/2009, Year 1856 No. 175; Reel 757]
[2] Darlinghurst Gaol – Description Book: Frederick Ward, 1856 [SRNSW 4/6306 Year 1856 No. 1772; Reel 859]
[3] Darlinghurst Gaol – Description Book: Frederick Ward, 1861 [SRNSW ref: 4/6309, Year 1861 No.2103; Reel 860]
[4] NSW Police Gazette 1863 No. 37 (16 Sep 1863) p.279