Analysis:
Did Fred Ward's life of crime start in Queensland?

The proliferation of newspapers in the early 1900s was matched by a proliferation of articles about bushranger Thunderbolt, with many recording the reminiscences of those who had – or claimed to have had – an involvement with him. The Queenslander included the adjacent report in 1918.[1] The claims made in that report were repeated in the Brisbane Courier in 1918, 1922 and 1925 (see lower right), and in the Courier-Mail in 1950.[2]
That Fred Ward began his life of crime in the 1850s while working for J.P. Wilkie of Daandine Station in the Darling Downs, as stated by the adjacent letter-writer, was seemingly immediately accepted as fact by those living in Queensland, so much so that it was mentioned in a 2003 court-case regarding the valuation of a block of land and the house situated thereon: "The old dwelling also has historical significance through its builder (Frank Wilkie), who also employed a horseman to bring horses to the property during the construction. That horseman worked on Daandine Station, and later became the bushranger Captain Thunderbolt. Those facts are well known to the National Trust."[3] As the dwelling was elsewhere noted to have been built in the 1880s, it is evident that someone did not check out the facts!


So what are the facts?
The newspaper references to Fred Ward's employment at Daandine Station are secondary-source references published more than 60 years after the event. The primary-source records tell a different story. They reveal that Wilkie's employee was not Fred Ward at all, but his nephew John Garbutt.
The first and most easily accessible evidence showing that John Garbutt was working in Queensland*, specifically in the Darling Downs region, is found in the Sydney Morning Herald's report of March 1855 that a warrant had been put out for his arrest for horse-stealing, as shown below:[4]

The remainder of the evidence comes from a most obscure source, one that was extremely difficult to find. In fact, the documents have never previously been found by Thunderbolt researchers so it is not surprising that the myths regarding Fred's employment at Daandine have not previously been debunked. The evidence comes from the extensive report by a government Board of Inquiry into John Garbutt's claims that he had encountered Ludwig Leichhardt, the famed explored who had disappeared a decade previously, while working in Queensland.
Fred and his nephews John and James Garbutt were serving their 10-year sentences at the Cockatoo Island penal establishment when, in April 1857, the Sydney Morning Herald published an intriguing letter from "Z" claiming that news was about to surface about Leichhardt and that "The information received is from a young person ... at present under restraint."[5] Letters flooded in to the newspaper demanding further information about Leichhardt and the identity of the informant. One letter-writer wrote (see below):[6]

The Governor-General himself interviewed John Garbut on 1 May 1857, along with John's brother James and uncle Fred Ward. In the aftermath, the press reported that "Garbut's statement was, in the main, consistent with his former ones. He, however, admitted that his having stated that his brother and uncle had, as well as himself, been at the inland settlement where ... Dr Leichhardt was detained in 1855 was not true."[7]
A second Board of Inquiry was held on 8 May 1857 and the minutes of that meeting have survived in the records of the NSW Parliamentary Library.[8] Fred faced questioning by the Board (see his Interrogation), along with John Garbutt himself, and their answers provide no support for any claim that Fred worked in Queensland in 1854-5. In fact, quite the opposite.
John Garbutt's initial statement said that his uncle Fred Ward and brother James Garbutt had both visited the inland settlement where Leichhardt was purportedly being held. John was trying to convince the authorities that they should send an expedition to the area – with himself as leader, of course – so the more support he had, the better his chances of convincing them. Claiming that the others had been to the settlement as well provided the type of support he needed.
So why would he renege on his claims so quickly? Because the authorities had made it clear that the trio were all going to face interrogation by influential men who actually lived in the Darling Downs and knew the countryside, and who also knew their fellow pastoralists so could readily verify the truth or otherwise of the trio's claims. James Garbutt worked in Maitland so it would be easy to prove that he had never been in Queensland and therefore had no opportunity to make the lengthy journey to visit the camp. Seemingly, the same must have been true for Fred. If he claimed to have worked in Queensland – allowing him the opportunity to visit the camp – his employment there could be checked.
As can be seen from Fred's Interrogation, he reported that all of his meetings with John Garbutt had been in Maitland, and that he was in Maitland when he met the men from the camp where Leichhardt was supposed to be held. Moreover, when asked about John's employers, Fred mentioned Mr Crowder, with whom John evidently grew up, and some others but, significantly, did not mention J.P. Wilkie. If he and John Garbutt had both worked for Wilkie in Queensland in 1854-55, Fred would have mentioned their mutual employer. He could also have supported John's statement that they had both gone to the inland camp.
What did John Garbutt say about his employment at Wilkie's? In the questions below, John said that he first went to visit the inland camp while working for Mr Crowder in 1853 and that, after he came back, he worked for Mr Wilkie until March 1855 [9].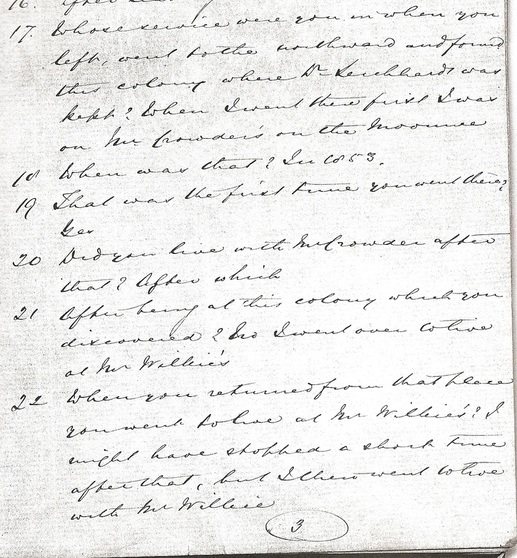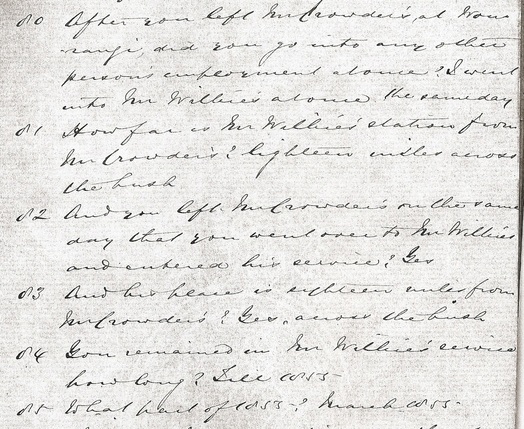 Significantly, March 1855 was the month in which the warrant was put out for John Garbutt's arrest for horse-stealing (see above newspaper report).
There are other references to Wilkie in John's interrogation, a copy of which is now deposited at the University of New England's Heritage Centre at Armidale.
What is clear from the interrogations of both John Garbutt and Fred Ward is that Wilkie's employee at Daandine Station in 1854-55 was not Fred Ward at all but his nephew John Garbutt. The evidence also shows that John Garbutt did indeed began his life of crime during this period and soon afterwards inveigled Fred Ward into joining him. However the pair did not join forces in the Darling Downs district but in Maitland. No primary-source evidence has been found to date to suggest that Fred ventured into the region that became known as "Queensland" until after he became the bushranger Thunderbolt.

Notes:
* Technically, Queensland did not separate from NSW until 1859, however I have referred to Garbutt's place of employment as being in "Queensland" for easier comprehension.

Sources:
[1] The Queenslander 11 May 1918 p.41
[2] Brisbane Courier 2 Nov 1918 p.12, 4 Feb 1922 p.17, 9 May 1925 p.18; Courier-Mail 24 Jun 1950 p.2
[3] Spender v Department of Natural Resources and Mines [2003] QLC 0043, Notes 18 & 19, pp.5-6 [http://www.landcourt.qld.gov.au/documents/decisions/AV2002-0437.pdf]
[4] Sydney Morning Herald 22 Mar 1855 p.4
[5] Sydney Morning Herald 14 Apr 1857 p.5
[6] Sydney Morning Herald 25 Apr 1857 p.5
[7] Sydney Morning Herald 5 May 1857 p.5
[8] Legislative Assembly Tabled Papers: Statement of John Garbutt regarding Ludwig Leichhardt, 1857 [NSWPA LA TP 1857/409]
[9] ibid, pp. 3 & 8.