Analysis: Did Frederick Ward shoot at the police?

Claims have been made that Fred Ward "never shot at anyone" during his many years of bushranging, as shown below:[1]


While undertaking my own Thunderbolt research using original records, I discovered five incidents during which Fred Ward clearly shot at either the police or a civilian:

- 27 Oct 1863: near the Big/Split Rock south of Uralla;[2]
- 24 Apr 1865: at Millie;[3]
- Dec 1865: Aboriginal man at Wallah;[4]
- 25 Feb 1867: at Denison Diggings where he shot at Neil McInnes;[5]
- 25 May 1870: in the encounter with troopers Mulhall and Walker prior to his death at Kentucky Creek.[6]

The primary-source information relating to these five incidents is readily available, and snippets could be published on this website; however, it isn't necessary. This type of bold claim – that Fred Ward "never shot at anyone" – requires only one piece of indisputable evidence to disprove it. So I will provide that one piece of indisputable evidence only. It comes from a deposition signed under oath by Richard Simpson, the innkeeper Fred Ward was robbing when he shot at Neil McInnes on 25 February 1867. Simpson said that "Ward fired after McInnis as he was running away" (see below).[6]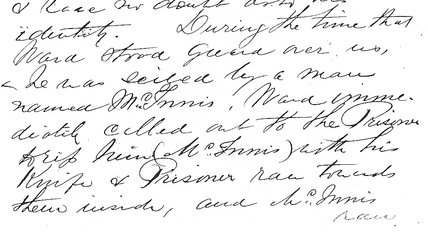 In the aftermath, police officials signed a warrant for Fred's arrest on the charge of "shooting at Neil McInnes with intent to murder him" – as shown below:[8]

Clearly, Fred Ward had no compunction about shooting at people, police or otherwise. He rarely did so, of course: five incidents in nearly seven years of bushranging is a low incidence indeed. He evidently recognised that it was wiser not to shoot at anyone because of the obvious danger of killing them. Perhaps he didn't want a death on his conscience. Undoubtedly he realised that such a death would translate into a highly motivating reward increase and a highly motivated police hunt. Effectively it would sign his own death warrant – whether it be under a hail of bullets or on the gallows.
But the fact that Fred rarely fired a shot does not translate into "Fred Ward never shot at anyone". Nor is such a claim made in "nearly every book about Thunderbolt".[1] The books actually say that Fred never hurt anyone – a huge difference.


Sources:

[1] Fact Sheet on the Death of Thunderbolt by Barry Sinclair [http://users.tpg.com.au/users/barrymor/Family%20Facts%20on%20the%20Death%20of%20Thunderbolt.html]
[2] See
Timeline 1863
[3] See
Timeline 1865 – First gang
[4]
Sydney Morning Herald
29 Dec 1865 p.4
[5] See
Timeline 1867
[6] See
Timeline 1870
[7] Clerk of the Peace – Depositions: R. vs Thomas Mason, 15 Nov 1867 [SRNSW ref: 9/6501 No. 957]
[8] NSW Police Gazette 1867 p.154