Frederick Wordsworth Ward - Birth certificate 1868
Source: RBDM ref: Birth 1868/0016881 - supplied by Carol Baxter
Official certificate from NSW Registry of Births, Deaths and Marriages changed from pink-and-green to grey-scale for security reasons.
NB. Frederick was the son of
Frederick Ward
and
Mary Ann Bugg
. See also
Baptism
entry.
Birth, Death and Marriage Registrations on this website are reproduced with the permission of the NSW Registry of Births, Deaths & Marriages for and on behalf of the Crown in and for the State of New South Wales.
NB. The details in different handwriting in Columns 7, 8 and 9 of the official certificate were evidently added in 1934 and initialled, according to the Notes section in the transcription provided by Laurence Turtle, one of the Registry of Births, Deaths and Marriages Certified Transcription Agents (see bottom of page).
For more detailed information about the addition of this information, see Frederick Wordsworth Ward jnr.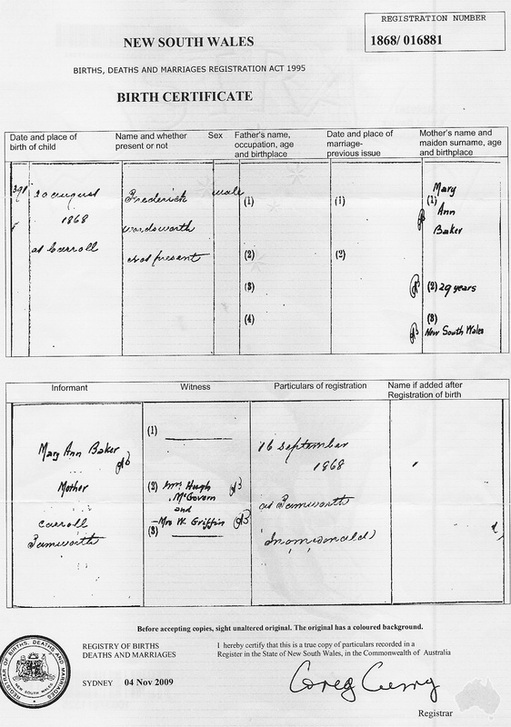 Transcript provided by Richard White

Reproduced with permission of Laurence Turtle