Harriot Ward's burial entry

The following document has been forwarded to me with associated correspondence stating that it represents "Harriet Ward's death certificate". One piece of correspondence reported that Fred Ward was clearly not the son of Michael and Sophia Ward (despite the irrefutable evidence shown in Who were Fred Ward's parents? and Was Fred Ward the son of his "sister"?) but was the child of their daughter Sarah, that "Sarah was Fred's mum not Sophia his grandmother (as seen on Harriets death certificate)". The "death certificate" they forwarded is displayed below (please excuse the skewiff angle
–
that's how it came to me).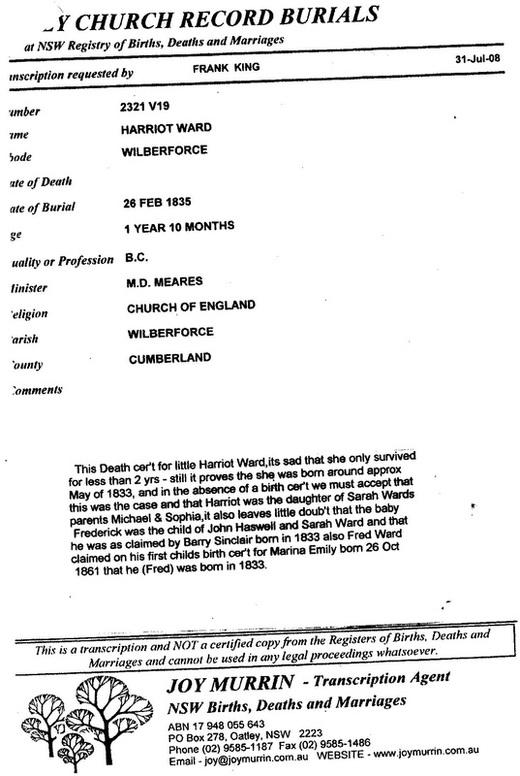 Before discussing the contents of the above document, let's determine its nature. Those forwarding the certificate claim that it is a copy of "Harriets (sic) death certificate". This is incorrect. Civil registration – that is, the compulsory registration of birth, marriage and death certificates – began in NSW in 1856. Prior to that time, the primary source of information about births, marriages and deaths came from church records – that is, from entries found in the baptism, marriage and burial registers that documented these voluntary ceremonies. This distinction between death certificates and burial registrations is important because death certificates provided details of parentage (if known), whereas burial entries frequently failed to include any references to parentage.
Which brings us to the above document. This is not a "death certificate" as those forwarding the document claim, but a "burial entry" as made clear in the first line of the document itself, which says: "Early Church Records Burials". Harriot Ward died in 1835, twenty one years prior to civil registration, so no "death certificate" could have been registered. Fortunately, her burial was recorded in the Wilberforce church records, and it is these details that are provided in the above document.
So what does the burial entry tell us? That a 22-month-old colonial-born child named Harriot Ward was buried in February 1835 at Wilberforce. From that information, we can conclude that Harriot Ward was probably born around May 1833. That's all.
In the middle of the above document is a paragraph of information referring to "This Death cer't" (sic), stating that it "leaves little doubt that the baby Frederick was the child of John Haswell and Sarah Ward and that he was as claimed by Barry Sinclair born in 1833".
It does? This is an extraordinary claim. The burial entry itself does not even tell us who Harriot Ward's parents were, let alone allow anyone to reach any conclusions about her family or the births of her siblings.
And what about the statement in the same paragraph that "Fred Ward
claimed on his first child's birth cer't for Marina Emily born 26 Oct 1861 that he (Fred) was born in 1833". Fred made no such claim at all. Indeed, you can determine this for yourself by examining Marina's Birth Certificate. When Marina was born in 1861 near Dungog, her mother Mary Ann Bugg acted as the informant for the birth certificate, and it was she – not Fred – who reported that Fred was aged 28 at that time. Fred couldn't have provided the information as he was in gaol in Mudgee at the time. In fact, when he was admitted to Darlinghurst Gaol a couple of weeks after Marina's birth, Fred himself stated he was only 26
–
not 28. The information Fred provided about his own age is, naturally, more reliable than information Mary Ann could provide about Fred's age, particularly when they had been together for less than a year at that time. The age Fred himself provided indicated that he was born in 1835 or thereabouts
–
not 1833 as claimed above
–
which tallies with information he provided in other sources (see
When was Fred Ward born?
).
So where did this paragraph of error-ridden information come from. Clearly it did not come from Harriot's burial entry as it mentions the claims made by Thunderbolt afficionado Barry Sinclair who is still alive today. Perhaps it was positioned in the middle of the transcription to lead people to assume that the information was added by the transcriber herself, Joy Murrin, a certified transcription agent with the Registry of Births, Deaths and Marriages, lending it a certain credibility by virtue of her official position.
However, I had seen and transcribed Harriot Ward's original Burial Entry so I knew that the entry itself did not include this paragraph of information. I also knew that Joy Murrin would not add such a comment to her transcription. So I paid Joy for another copy of her transcription, as shown below. To ensure that no one could falsify this transcription, Joy deleted the gap and added "No further information recorded in this burial register".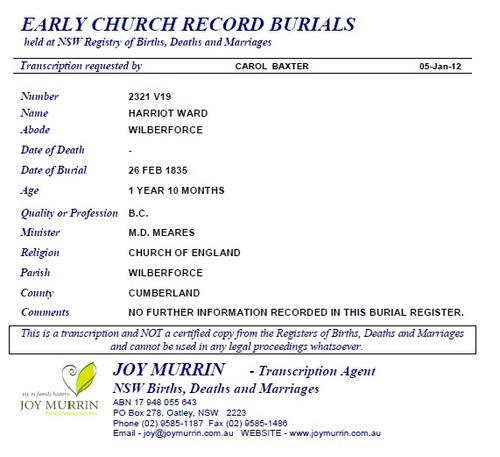 _ Since the document at the top of the page is clearly being used as "evidence" to back up claims that Fred Ward was not the son of Michael and Sophia Ward but of their daughter Sarah, it begs the question as to who has been "corrupting the data to fit their hypothesis"?