James Garbutt

James Garbutt was one of Frederick Ward's nephews, the son of his sister
Sarah Ann Ward
. Fred and James were tried at Maitland in 1856 for the same horse-stealing crime. Biographical information for James Garbutt is shown below.
1833 circa
James Garbutt born at Wilberforce to Sarah Ann Ward (born c1816 – see above).[1]
As James' younger brother John was born in Sep 1834 (therefore conceived in Dec 1833), then James himself must have been born no later than mid-1833 (therefore conceived in 1832). As Sarah applied to marry John/William Haswell in mid-1832 when she was only 16, it is likely that Haswell was James' father and that she applied to marry him after falling pregnant[2]
1830s-40s
It is unclear who brought James up in the years after Sarah left John Garbutt. As James was not John Garbutt's child, Garbutt did not get custody of him. Perhaps James went with his mother north to Warialda in the 1840s. As he was apprenticed as a turner in Maitland carpenter (apprenticeships usually commenced when the apprentice was around 14 years of age, therefore in 1847 or thereabouts), he was either living with his grandparents at Maitland for much of this period, or he was brought down to Maitland and left there when the heavily pregnant Sarah visited Maitland in May 1848[3]
1856 - 1860
Involved with his brother John Garbutt (and Frederick Ward) in stealing and receiving stolen horses and sent to Cockatoo Island for ten years; received a ticket-of-leave to the Mudgee district in 1860[4]
1861 May-Aug 8 May: apprehended for stealing a pair of boots and other goods from his employers, Messrs Dickson & Burrows of Mudgee; 9 May: brought before Mudgee Police Court and committed for trial at the next Quarter Sessions; 6 Jun: ticket-of-leave cancelled; 10 Jun: Inspector General of Police ordered that, in the event of an acquittal, the Garbutt brothers were to be returned to Cockatoo Island to complete their previous sentences; 5 Jul: tried at Mudgee Quarter Sessions for stealing a pair of boots on 8 May and acquitted; 6 Jul: re-arrested under warrant by Mudgee Bench for being 'illegally at large'; 19 Jul: brought before Police Court and an order made to send him to Sydney; 29 Jul: admitted to Darlinghurst Gaol; 3 Aug: transferred to Cockatoo Island[4a]
1863 Jun +
5 Jun 1863: name included on list of deserving prisoners on Cockatoo Island recommended for restoration of ticket-of-leave, but no action taken; remained on Cockatoo Island as overseer of carpenters; Apr
1865
: Rev Henry Frost petitioned on Garbutt's behalf describing his unfair treatment and reporting that Garbutt had no idea why his ticket had not been restored to him upon his acquittal; Inspector-General's Office agrees that his ticket-of-leave should be restored; 8 May 1865; James Garbutt released from Cockatoo Island with ticket-of-leave for Singleton district[5]
1866 Jul 19
Married Mary Hughes formerly Osborne at West Maitland (born c1848, London)[6]
1867 Jul 4
James and Mary had a daughter Alice Mary Maud born at Singleton; James was listed as a carpenter[7]
1869
James and Mary had daughter Minnie born[8]
1871 May 2
James pleaded guilty to charge of being drunk and disorderly and was fined[9]
1871 Nov
James was admonished and discharged from the temporary court-house at Mudgee for drunkenness[10]
1872
L
isted as a cabinetmaker in John St, Singleton[11]
1872 Oct 22
Tried at the Singleton police court for stealing vegetables and fined[12]
1874
Early 1874: charged with stealing a watch and committed for trial at Maitland Sessions[13]
1874 Jul
Pleaded guilty at the Singleton police court to the charge of stealing a carving knife and fined or, in default, to serve three months in gaol; 17 Aug 1874: daughters Alice and Alice arrested under Industrial Schools Act and admitted to Biloela (Cockatoo Island) from whence Alice absconded on 24 Feb 1882[14]
1876 May
Letter from Comptroller General of Prisons saying that James Garbut, imprisoned by Lithgow Bench for Vagrancy and confined in Bathurst Gaol, was recommended for release with a view to his admission to a charitable institution[15]
1879 Oct 25
James tried at the Mudgee Police Office for "exposing his person" and sentenced to 1 month hard labour[16]
1881 Jul
Reward offered in the Maitland Mercury for anyone knowing the whereabouts of James Edward Garbutt and his children Alice and Minnie[17]
1881 Oct 7
James at the Mudgee Police Office tried for "exposing his person" and sentenced to 4 months hard labour[18]
1882 Aug 2
James tried at Mudgee Quarter Sessions for "indecent assault" against Mary Donelly and sentenced to 18 months hard labour at Mudgee Gaol[19]
1894 Apr 6
James tried at Mudgee G D [Gaol Delivery?] for "assault with intent to carnally know" and sentenced to four years servitude; admitted to Bathurst Gaol (see photo image below)[20]
1902 May 12
James tried at the Mudgee Police Court for "exposing his person" and sentenced to 6 months hard labour[21]
1906 Jul 15
Died at Mudgee, reportedly aged 76 or 77; buried 16 Jul 1906 CE Cemetery, Mudgee
[
22]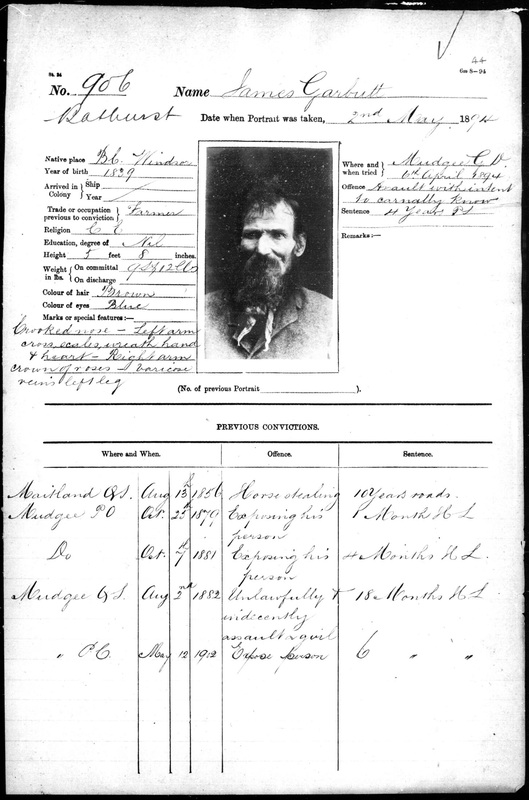 Sources:

[1] See
Was Frederick Ward born to his "sister"?
for a discussion of the evidence relating to James' birth; Death Certificate: James Garbett [RBDM ref: 1906/9535]
[2] List of persons applying for publication of banns at Sackville Reach and Pitt Town, 31 Aug 1832: William Aswell & Sarah Ward [SRNSW ref: 4/2151.2; Reel 722]; For a detailed discussion about the evidence regarding James Garbutt's birth, see
Was Frederick Ward the son of his "sister"?
[3] Intestate Estate Papers: John Garbutt, 1839 [SRNSW ref: 6/3492 No.291]; Petition: James Garbutt, 1858 [SRNSW ref: 4/549 File 65/1712 No. 58/1399]; Baptisms: Amelia & Harriet Edwards [SRNSW ref: Vol. 33 Nos. 2649 & 2648; Reel 5010]
[4] Ticket of Leave: James Garbutt [SRNSW 4/4233 No.60/27; Reel 893]; See also
Timeline: 1835 - 1863
[4a]
Western
Post 11 May 1861 p.3, 10 Jul pp.2 & 3, 24 Jul p.2
; Darlinghurst Gaol - Entrance Register: James Garbutt, 1861 [SRNSW 5/1895 Year 1861 No.1516; Reel 2337] Ticket of Leave: James Garbutt [SRNSW 4/4233 No.60/27; Reel 893];
CSIL: Re James Garbutt [SRNSW 4/549 Item 65/1712 No.65/1712]
[5] CSIL: Cockatoo Island to Principal Under-Secretary, 5 Jun 1863 [SRNSW 4/510 No.63/5691]; CSIL: Re James Garbutt [SRNSW 4/549 Item 65/1712];
Ticket-of-leave: James Garbutt, 1865 [SRNSW 4/4234 No. 65/4; Reel 893]
[6] Birth Certificate: Alice Mary Maud Garbutt [RBDM ref: 1867/0014445] (informant was James' wife Mary)
[7] Birth Certificate: Alice Mary Maud Garbutt [RBDM ref: 1867/0014445]
[8] Registry of Births, Deaths & Marriages Online Indexes: Minnie Garbutt [RBDM ref: 1869/0016575 – not sighted]
[9]
Maitland Mercury
4 May 1871 p.3
[10]
Maitland Mercury
14 Nov 1871 p.2
[11]
Greville's
1872
Post
Office
Directory
, transcribed by Kathy Pearson
[http://www.addison.homedns.org/transcriptions/grevilles/names_a_to_z/g.htm]
[12]
Maitland Mercury
24 Oct 1872 p.4
[13]
NSW Police Gazette
1874 p.73
[14]
Maitland Mercury 6 Jul 1874 p.4, 30 Jul 1874, p.2; NSW Police Gazette 1874 p.222, 1882 p.81; CSIL: Industrial School for girls, Biloela, admitted Alice Garbutt & Meinna Garbutt, 17 Aug 1874 [SRNSW ref: 1/2261 No. 74/4711]
[15]
CSIL: James Garbutt, 1876 [SRNSW ref: 1/2331 Nos. 76/3816 & 76/3873]
[16]
Bathurst Gaol: Photographic Description Book: James Garbutt [SRNSW ref: 3/13072 p.63 No.906; Reel 5089]
[17]
Maitland Mercury
30 Jul 1881 p.6
[18]
Bathurst Gaol: Photographic Description Book: James Garbutt [SRNSW ref: 3/13072 p.63 No.906; Reel 5089]
[19]
NSW Police Gazette
1882 pp.195 & 319; Bathurst Gaol: Photographic Description Book: James Garbutt [SRNSW ref: 3/13072 p.63 No.906; Reel 5089]
[20]
Bathurst Gaol: Photographic Description Book: James Garbutt [SRNSW ref: 3/13072 p.63 No.906; Reel 5089]
[21]
Bathurst Gaol: Photographic Description Book: James Garbutt [SRNSW ref: 3/13072 p.63 No.906; Reel 5089]
[22]
Death Certificate: James Garbutt [RBDM ref: 1906/9535];
St John's CE, Mudgee – Burials: James Garbutt, 16 Jul 1906 [SAG Reel 339]