Analysis: Who was Mary Ann Bugg's mother?

There has never been any doubt as to the identity of Mary Ann Bugg's father, James Bugg, although there has been some uncertainty as to the spelling of his surname (see
Was Mary Ann Bugg's surname Bugg or Brigg?
). However confusion has certainly arisen regarding the identity of her mother.
When Mary Ann was baptised on 24 February 1839, her
Baptism Entry
recorded that her parents were "James Bugg and An Aboriginal woman". Many Thunderbolt publications claim that her mother was named
Elizabeth
, that James and Elizabeth were forced to separate by the Australian Agricultural Company, that the Company then sent Mary Ann and her brother John to school in Sydney, and that James later married a part-Aboriginal woman named Charlotte and had further children. These claims are documented in the following Fact Sheet about Thunderbolt published on the internet:[1]

Regarding Mary Ann's Aboriginal background:
- The Death Certificate of Mary Ann's Aboriginal mother, Charlotte, states that she was born in Gloucester, Port Stephens, information provided by her son (NB. When the Australian Agricultural Company established its stations in Gloucester, this area was part of the Port Stephens administrative district);
- Bugg descendants who live in the Gloucester district report that Mary Ann's mother was Worimi;
[1a]
- The History of the Worimi People reveals that there were two tribal groups living within in that vicinity: "the Biripi, who inhabited the area between Tuncurry, Taree and Gloucester, and the Worimi, who occupied the land between Barrington Tops and Forster in the north and Maitland and the Hunter River in the south". Accordingly to this publication, the Worimi did live in the Berrico area where James Bugg seemingly met Mary Ann's mother, which backs up the claims made by Bugg descendants;
[2]
- It must be noted however that other descendants claim that Charlotte was Biripi, with other tribal maps indicating that the Gloucester area was part of the Biripi nation's lands;
- The Wonnarua's territory, according to the Australian Museum website, however covered the Hunter Valley district;
[3]
- But clearly the claims that Mary Ann's mother was Gringai of the Wonnarua tribe cannot be substantiated.
Regarding the name of Mary Ann's mother:
-
No primary-source references record that Mary Ann's mother was an Aboriginal woman named
Elizabeth
or that James Bugg had a "wife" named
Elizabeth
, or indeed that he had more than one wife; in fact, the only references to Elizabeth seem to be found in secondary-source publications;
-
James Bugg married his Aboriginal partner Charlotte in 1848, at the same time as four of his eight children were baptised (see
James and Charlotte Bugg and their family
);
-
Charlotte died in 1861 and her son William acted as the informant for her
Death Certificate
. He told the authorities that Charlotte had eight children, and he provided the names and ages of these children, listing Mary Ann as the eldest. These eight children were the same eight children known to have been born to James Bugg (the above Fact Sheet incorrectly reports that James Bugg had nine children: Mary Ann, John, and Eliza born to
Elizabeth
, and a further six children to
Charlotte Derby
).
-
The claim that children of a previous spouse were regularly listed on the death certificate of a later spouse because "the children of both marriages were considered to be brothers and sisters" is inaccurate. The column on the death certificate is headed "Children of marriage" not "Children in family". In my three decades as a genealogist and historian, I have never come across a death certificate listing the children of a previous marriage in this column, so I challenge the author to produce half-a-dozen such death certificates to support his argument that this "often happened". While this situation might occur, it must be very rare; moreover, it would most likely occur when the information was provided by someone with little knowledge of the family, rather than one of the deceased's own children. The argument that this "often happened" is apparently the only evidence supporting the contention that Charlotte was not Mary Ann's mother and thereby, seemingly by default, that the mysterious woman named Elizabeth was in fact Mary Ann's mother. But as this claim regarding death certificates is spurious, it cannot be used to dismiss the important primary-source evidence showing that Charlotte was Mary Ann's mother.
-
Significantly, not only was Mary Ann listed as a child of Charlotte and James' marriage on Charlotte's
Death Certificate
, but Charlotte was listed as Mary Ann's mother on Mary Ann's own
Death Certificate.
- Importantly, Magistrate Thomas Nicholls, who knew the Bugg family well, wrote that "The father and mother of his woman [Mary Ann] were married by a minister of the established Church of Scotland".
[3a]
James and Charlotte were indeed married by a Presbyterian minister in 1848; moreover James married no one but Charlotte.
- The above Fact Sheet also states that James and
Elizabeth
had a third child, Eliza, born in 1837 before the pair had to separate. While no birth details for her have survived, Eliza acted as the informant for the birth certificates of three of her own children and the ages she provided for herself tally with each other, producing a birth-window between February and May 1839 – not 1837 (see
James and Charlotte Bugg and their family
for links to these certificates).
[4] This would explain why she was not baptised with the earlier two children in February 1839. Additionally, Eliza's
Marriage Certificate
stated that her parents were "James Bugg" and "Charlotte, an Aboriginal", while her
Death Certificate
stated that her parents were "James Bugg, station overseer, and
Charlotte
". Clearly, her mother was not
Elizabeth
as the above Fact Sheet claims. Furthermore, Eliza named her eldest daughter
Mary Elizabeth
Charlotte
and her second daughter
Charlotte
Jane
, honouring her mother with each naming.
Regarding the claimed separation between James and
Elizabeth
:
-
The above Fact Sheet accounts for James and
Elizabeth's
claimed relationship breakdown by saying that the Australian Agricultural Company forced them to separate, however the facts do not substantiate this claim.
-
In June 1838 the NSW Governor warned the Company that they must not allow their "assigned servants" to cohabit with Aboriginal women as their Charter prohibited such liaisons.[5]
The reference to "assigned servants" referred to the Company's convict servants, those assigned to the Company by the NSW authorities as an unpaid labour force.
-
James Bugg was not one of the Company's assigned convict servants by that time. He had received his ticket-of-leave four years previously (a form of colonial parole) and thereby owned his own labour.[6]
The Company paid him for that labour in the same way that they paid a free man for his labour. Accordingly, they could terminate his employment but they could not control his family arrangements or those of any other member of their paid labour force. That the Company chose not to terminate his employment is evidence that his family arrangements were neither their concern nor those of the NSW Governor.
-
The above Fact Sheet essentially argues that James must have had two relationships – an earlier one with Elizabeth and a later one with Charlotte – because the Company broke up his first relationship. However, as the Company clearly did not enforce a separation between James and the Aboriginal mother of his eldest children, this argument cannot be used as evidence that James must have had two different wives.
Regarding Mary Ann and John's education in Sydney:
-
The above Fact Sheet says that Mary Ann and her brother were sent by the Company to a school in Sydney. This intimates that the Company ordered their removal to Sydney in the aftermath of their parents enforced separation. What are the facts?
-
The following letter from the Company's Commissioner, Henry Dumaresq, dated 20 November 1837, shows that the decision to send the Bugg children away to school was at James Bugg's instigation, that he had already thought deeply about their future well-being and hadn't needed to be urged to do so, and that the children had not been separated from their mother prior to that time[7]
: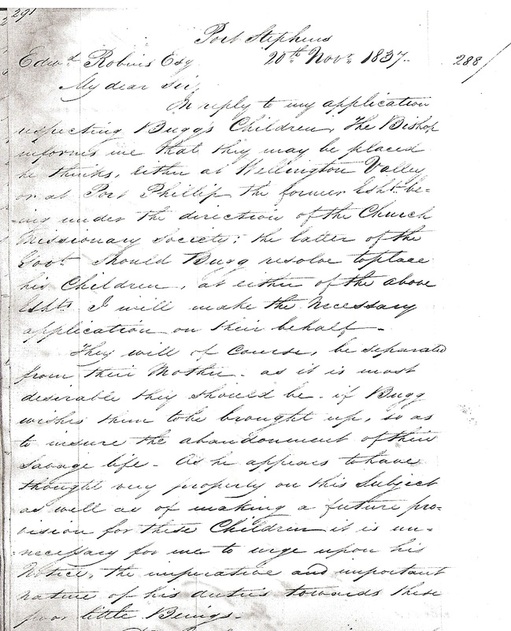 -
A later letter from Dumaresq to Rev Cowper dated 2 December 1837 stated: "I beg to bring under your notice with a view to second the laudable wishes of the parents of the children who are the objects of this application, that an Overseer named James Bugg, a Prisoner holding a Ticket-of-Leave in the employ of this company, has two children by a Native Black Woman whom he is anxious to rescue from Savage life. The Woman who has always, I understand, conducted herself in a faithful and exemplary manner partakes with the Father of the children, an ardent desire to elevate them above the Barbarism of her Tribe, and consents to part with them for this purpose. Bugg has expressed his readiness to place at my disposal, with a view to forward this object, the sum of £20 for each of his Children to be expended on this account, or placed for them in trust, as may be determined, and I have little doubt, that he will continue to make such further provision for them, as may be in his power. Under these circumstances I feel an anxiety which I doubt not will be participated by the Society for which you act, to foster and encourage the praiseworthy desires of the parties in question."[8]
-
Clearly, while the Bugg children were indeed sent to school in Sydney by the Company, the Company's Commissioner was acting under the authorisation of both James and his Aboriginal wife.
-
The above Fact Sheet claims that the different treatment received by the first batch of children to that received by the children baptised to "James and Charlotte Bugg" serves as evidence that they had different mothers. However, as Eliza, who was clearly also the daughter of James and Charlotte, received the same treatment as the second batch of children (that is, no education), this can hardly be considered evidence supporting the argument that they had different mothers.
Regarding "Charlotte Derby":
-
The above Fact Sheet claims that James Bugg later established a relationship with a "part-Aboriginal woman" named "Charlotte Derby". But what are the actual facts?
-
Charlotte was not part-Aboriginal – that is, she was not a "half-caste" in the terminology of the time. Her
Death Certificate
clearly states that she was "an Aboriginal" and lists her parents as "Aborigines". The information on her death certificate was, of course, provided by her son, a most reliable source.
-
As an Aboriginal born around 1813 in a district where there was no white presence, Charlotte did not have a surname. Indeed, she could not have had a surname as Aboriginal people did not use surnames (which initially came into use in England in the 12th century because of a need to prove property entitlements). Accordingly she took James' surname, as shown by her
Marriage entry
in 1848.
-
So where did the surname
Derby
come from? The earliest reference I have located is found in the
Death Certificate
of James and Charlotte's daughter Jane Relf in 1885, who died twenty-four years after Charlotte's own death. The informant was Jane's widowed husband who had not known Charlotte. When asked for her surname, it is likely that he plucked something from the air, perhaps from a vague memory or perhaps so he didn't have to admit to her Aboriginality. Prejudices were strong at the time.
-
Some have claimed that Charlotte took the surname
Derby
from the estate owner/manager at the time of her birth or youth, but there were no estates in the Gloucester district at that time, not until the Company sent their convict shepherds into the district in the late 1820s.
Clearly, the claims that Mary Ann's mother was an Aboriginal woman named Elizabeth are wrong. The evidence shows conclusively that her mother was James Bugg's Aboriginal wife Charlotte, the mother of all of his eight children.
Sources:

[1] Fact Sheet on the Death of Thunderbolt - sighted 4 Aug 2011
[http://
users.tpg.com.au/users/barrymor/Family%20Facts%20on%20the%20Death%20of%20Thunderbolt.html
]
[1a] Norma Fisher and others
[2] The History of the Worimi People [http://www.tobwabba.com.au/worimi/index.html – sighted 30 Jul 2011]
[3] Wonnarua [http://australianmuseum.net.au/The-Wonnarua]
[3a] CSIL: Magistrate Thomas Nicholls to Attorney General, 11 Apr 1866 [SRNSW ref: 4/573 No. 66/1844]
[4] Death Certificate: Eliza Tuncheon [RBDM ref: 1905/5176]; Birth Certificates: Joseph E. Fun Shun, Charlotte J. Tunchon, unnamed Tunchon [RBDM ref: 1867/0015119 & 1870/0015957 & 1873/0017404]
[5] Lord Glenelg to Sir George Gipps, 12 Jan 1838 with Enclosures in
Historical Records of Australia
, Series 1, Vol. 19, pp.744-8, 753-4
[6] Ticket of Leave: James Brigg, 1834 [SRNSW ref: 4/4096 No. 34/1616; Reel 922]
[7] Commissioner Colonel Henry Dumaresq - Letter Book, Sep 1836 to Jan 1838: Col. Dumaresq to Edward Robins, 20 Nov 1837 [NBAC ref: 111/8/1ff pp.291-2]
[8] CSIL: H. Dumaresq to Rev. W. Cowper, 2 Dec 1837
[SRNSW ref: 4/2404.1 No. 38/101]