Analysis:
What happened to Sarah Ann Ward and Fred Ward junior?


Those claiming that "Fred Ward escaped to America" instead of dying as Thunderbolt in 1870 also declare that Fred was not alone at that time, that he fled the country with his "mother", Sarah Ann, and his son Fred junior, as shown in the following extract from the Fact Sheet on the Death of Thunderbolt:[1]


The analyses Did Fred Ward go to America?
and When did Fred Ward die?
debunk the claim that Fred Ward fled to America. But for the sake of argument, let's explore the claims that Sarah Ann and Fred Junior supposedly accompanied him.
Sarah Ann Ward
The first question to ask is: what was the true relationship between Frederick Ward and Sarah Ann Ward. While the Fact Sheet author claims that Sarah was Fred Ward's mother (and accounts on those grounds for her accompanying Fred), the analyses Who were Fred Ward's parents?
and Was Fred Ward the son of his "sister"? prove
that Fred Ward was in fact the son of Michael and Sophia Ward, and therefore the brother – not the son – of Sarah Ann Ward.
So two claims in this section of the Fact Sheet are easy to disprove. What about the rest?
Regarding Sarah Ann Ward, the author reports: "According to our family records, [Sarah] disappeared at about the same time as Thunderbolt's death, yet her mother, Sophia Ward's death certificate in 1874 shows Sarah as still being alive".
Yet information provided by Sarah's descendant, Kenneth Edwards, reveals that Sarah in fact "disappeared" in 1864, five-and-half-years prior to Fred's death.
Sarah had an erratic relationship history. She applied to marry John Haswell in 1832 when seemingly pregnant with her first child, and applied to marry Morgan Carroll in 1833, but eventually married John Garbutt in 1835 after the first of their two children were born. She abandoned Garbutt for William Shepherd around 1837 – and left the two Garbutt children with their father. She eventually married Shepherd in 1839 after the first of their two children were born. She apparently abandoned these Shepherd daughters (who were seemingly brought up by their Ward grandparents) when she went to live with Edward Sackville Edwards around 1843. She remained with Edwards for the next two decades and they had seven confirmed children and possibly two others.[2] Then in 1864 she deserted Edwards. According to the
New South Wales Police Gazette
:[3]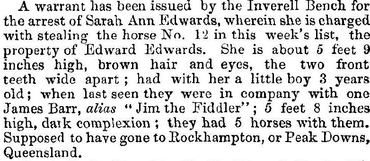 Clearly Edwards was unhappy that Sarah had apparently both cuckolded and robbed him, so he laid official charges against her – making their marital split very public and almost certainly irrevocable. No doubt when she fled north across the border into Queensland, she changed her name so she couldn't easily be found. Stealing horses was a serious crime at that time – as we know from Fred Ward's own imprisonments. Sarah's descendant, Kenneth Edwards, reports that in the aftermath of this flight north "she was never heard from again", which is not surprising under the circumstances. The law's clutches were less likely to wrap themselves around her in Queensland, so the report in the Police Gazette that she appeared to have gone north to Rockhampton or Peak Downs with her new partner was almost certainly correct.
Where was Fred Ward at this time? After escaping from Cockatoo Island in September 1863, Fred committed a few robberies in the New England and later the Hunter Valley districts before heading to the Culgoa River, north-east of Bourke, some 450kms west of Inverell. There he and Mary Ann lived quietly until January 1865 when Fred's first bushranging gang commenced operations. No evidence has been found to suggest that Sarah fled west to join Fred and Mary Ann late in 1864, rather than north as the Police Gazette stated. Indeed why would she? Fred was not her son – despite the Fact Sheet author's claim – and Sarah had a history of abandoning her own children, anyway, to pursue other men. Moreover, her previous contact with Fred had been minimal. She had lived in the Hawkesbury district during his infancy and again in 1842, when he was six or seven years of age, but apart from that, all of her known residences were a long distance from Fred's. Perhaps he occasionally dropped in to visit her when he acted as a drover prior to 1856, but she lived near the north of the state and his trips that far north were probably few and far between. From mid-1856, Fred spent six of the next seven years in gaol, and Sarah didn't visit Fred or her two Garbutt sons while they were on Cockatoo Island. During Fred's only year of freedom he resided in Mudgee – a long way indeed from the Inverell district. So it is likely that Fred hadn't seen Sarah for a decade, if not longer, when he escaped from Cockatoo Island, and that his relationship with her in the first place was only shallow.
Even though the historical evidence proves indisputably that Fred Ward died in 1870, the Fact Sheet author claims that after "Thunderbolt's" death, Fred went to Sarah's place at Ebor (near Dorrigo, west of Coffs Harbour), danced with the locals for the following six weeks, then fled the country with her, as shown below:[1]


Clearly, unless the ghost of Thunderbolt danced with great-aunty or great-grandma, the claims that Fred stayed with Sarah in the aftermath are apocryphal. But what about Sarah herself? Is the author suggesting that Sarah returned from Queensland to live with Edwards – or near Edwards
–
after 1864?
By 1867 Edwards had relocated with his family to Bostobrick, north-west of Dorrigo, some 150kms south-east of the Inverell district, where his daughter Esther married in July 1867, with Edwards and another daughter acting as witnesses. Edwards himself married in 1870, and stated at the time that he was a bachelor. This is a crucial piece of information. If Sarah had returned to live with him and had then died (with her death certificate either unrecorded or not locatable in the indexes for some reason), then Edwards would almost certainly have listed himself as a "widower" as no one needed to know that he and Sarah were not officially married. Indeed, in the terminology of the time she was his "common law" wife, anyway. That being the case, the most obvious conclusion is that Sarah was still alive. But where was she living?
The Fact Sheet author claims that Sarah settled in Ebor, not far from Edwards' new residence at Bostobrick. Yet no evidence has been presented to support the claim that Sarah ever returned to New South Wales after she fled north with her new man in 1864, let alone that she settled near Edwards. Moreover, the important principle known as Ockham's Razor – which can be loosely translated as "the most obvious is the most likely" – suggests that when Sarah disappeared in 1864 she most likely disappeared for good, as her descendant Kenneth Edwards reports. She was unlikely to have disappeared, then to have reappeared to live near her cuckolded partner, then to have disappeared again. Indeed why would she? If Edwards was willing to lay criminal charges against her, he was not going to forgive her that easily.
What about returning to live near her children? Not according to her descendants. The Fact Sheet author's own Family History website includes a short piece written by a relative which indicates that they thought Sarah might have died as early as 1856, as shown below:
[4]
The Police Gazette notice makes it clear that Sarah was in fact still alive and living with Edwards in 1864. But thereafter? Unless substantive evidence is provided to show that Sarah Ann Ward was indeed living at Ebor in 1870 (for example, if she is listed on one of her children's marriage certificates as a witness), one must conclude that these claims regarding Sarah
–
except that she disappeared
–
are as inaccurate as the claims regarding Thunderbolt's survival.
Frederick Wordsworth Ward Jnr
According to the Fact Sheet author, Fred junior accompanied his father to America. But can this claim be substantiated?
The US Census mentioned above (which was in fact a Federal Census collected in 1870 rather than a State Census collected in 1871) was a population census, meaning that it collected details for adults as well as children. If Fred junior had indeed travelled to America with his father, then the boy should have been listed on the census with his father. But, of course, Fred senior did not travel to America, as the historical evidence proves (see Did Fred Ward go to America?), so why would the boy be listed?
What do we know about the boy? Fred junior was born in August 1868[5] some eight or so months after Fred and Mary Ann separated.[6] Far from travelling to America, he remained with his mother after she rejoined John Burrows, and settled with them in the Mudgee district, taking the surname of his stepfather. He was listed in the 1890/91 Mudgee District Electoral Roll as residing at Dungaree in the police district of Rylstone, and at Rylstone itself in 1891/2. In the 1894 Roll for the Gulgong division of the Mudgee Electorate, he was listed as a groom residing in Court Street, Mudgee. The same information was recorded in the Electoral Rolls for the following six years.[7]
Clearly,
Fred junior clearly had a passion for horses – like his birth-father.
Mary Ann died in April 1905, and Fred acted as the informant for her Death Certificate, reporting that he was aged 36 at the time – the exact age that Mary Ann Bugg's son Frederick Wordsworth Ward would have been in April 1905. He was working as a horse trainer when he died as Frederick Wordsworth Burrows in 1937 near Moree. His brother Arthur acted as the informant for his death certificate, reporting that Fred was the son of John Burrows and, significantly, Mary Ann Boggs. When Arthur himself married in 1918, he listed his own parents as John Burrows and Mary Ann Buggs.
So how can it be claimed that Fred junior went to America with his father, when the evidence clearly shows that he remained with his mother and lived out his life as Frederick Wordsworth Burrows. Evidently, the Fact Sheets claims about Fred junior are as inaccurate as those about Fred and Sarah.
Sources
[1] Fact Sheet on the Death of Thunderbolt by Barry Sinclair - sighted 28 August 2011 [http://users.tpg.com.au/users/barrymor/Family%20Facts%20on%20the%20Death%20of%20Thunderbolt.html]
[2] See
Timeline: Sarah Ann Ward and her family
[3] NSW Police Gazette 21 Dec 1864 [supplied by Kenneth Edwards]
[4] Rootsweb site of Barry Sinclair - sighted 28 August 2011 [http://wc.rootsweb.ancestry.com/cgi-bin/igm.cgi?op=GET&db=barrysinclair34&id=I332
[5] See
Birth Certificate
and
Baptism
[6] See
Timeline: 1867
[7] NSW Electoral Rolls - Mudgee Electorate 1890/91 - 1899/1900 [SLNSW]